Annapolis, MD - On Wednesday afternoon June 27, Michel Desjoyeaux sailing FONCIA crossed the finish line winning the Saint Nazaire to Saint Malo race, and taking more than 5 ½ hours off the course record. This is a very satisfying result for Michel in his boat's inaugural race less than one month after launching.
Following Michel were two other new Farr designed Open 60's; Jérémie Beyou's DELTA DORE and Vincent Riou's PRB. These three Farr IMOCA Open 60 designs dominated the monohull fleet in this race, which is used as a testing opportunity for upcoming races in the IMOCA Open 60 events calendar later this year, including the Transat Jacques Vabre, Barcelona two-handed race and the Vendee Globe.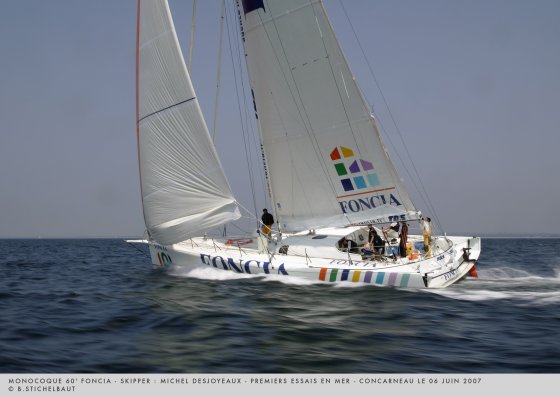 Farr Yacht Design has performed a body of research and prepared custom designs for a number of top-level IMOCA Open 60 campaigns. "It is good to see the results of our research, design and support efforts contribute to winning results on the race course and we offer our heartiest congratulations to Michel and members of his project team" said Patrick Shaughnessy, Vice President of Farr Yacht Design.
Farr Yacht Design is the leading sailboat design firm with a continuous record of providing superior designs for racing and cruising customers worldwide.
For more information, please contact Farr Yacht Design, Ltd. at info@farrdesign.com or T. +1 410 267 0780.